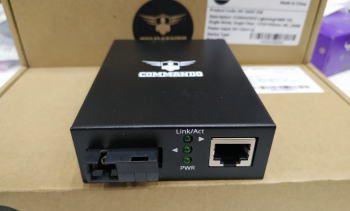 COMMANDO LightningFIBER 1FE, NCF, Single Mode, Single Fiber, 1310/1550nm, 3KM, MC
Highlights
•
Capable of Fast Ethernet connections and 100Mbps of data transferring Ethernet RJ45 to SFP Media Converter.
•
Auto MDI/MDI-X for copper port 10/100Mbps auto-negotiation for copper port. Half or full duplex auto-negotiation.
•
Complies with IEEE 802.3u, IEEE 802.3X, IEEE 802.3
•
Extend network distance up to 3km.
•
SC/FC/ST fiber port optional WDM.
•
Diagnostic LEDs for continuous monitoring real-time network status.
•
Plug and Play design simplifies installation with self-adaption. Easy Installation with no setup with Zero Configuration Required.
•
Competitive and Affordable price, Easy-to-Use Media converter for Small Business Networks.
•
Support Link Fault Pass Through function
•
Compact metallic casing, silent design perfect for noise sensitive environments.
•
A wide range of single-channel media converters, suitable for expanding any network depending on the speed and distance of the cable length.
•
CE, FCC, ROHS and ISO 9001:2005.
•
Comes with one-year default warranty – optionally extendable up to 3 years